LWR REBEL 2 born 2-22-2010 is extremely gentle & has been busy this summer breeding 50 of Our Best Cows. Photo in June 7, 2012
LWR REBEL 2 WON ALL THREE 2ND PLACES IN HIS CLASS PLACEMENT, IN THE HORN EXTRAVAGANZA IN OK CITY, OCT. 2012. MEASUREMENTS ON HERD SIRE PAGE.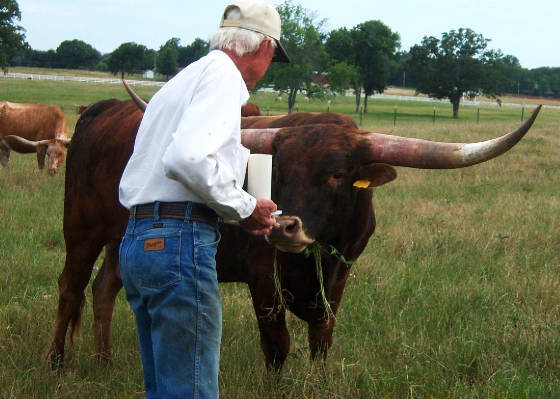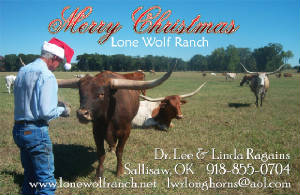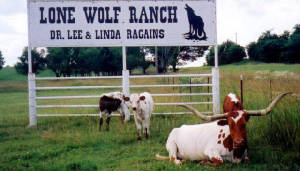 Our Ranch Sign on Hwy 16 between Muskogee & Okmulgee before we moved to Sallisaw in 2009.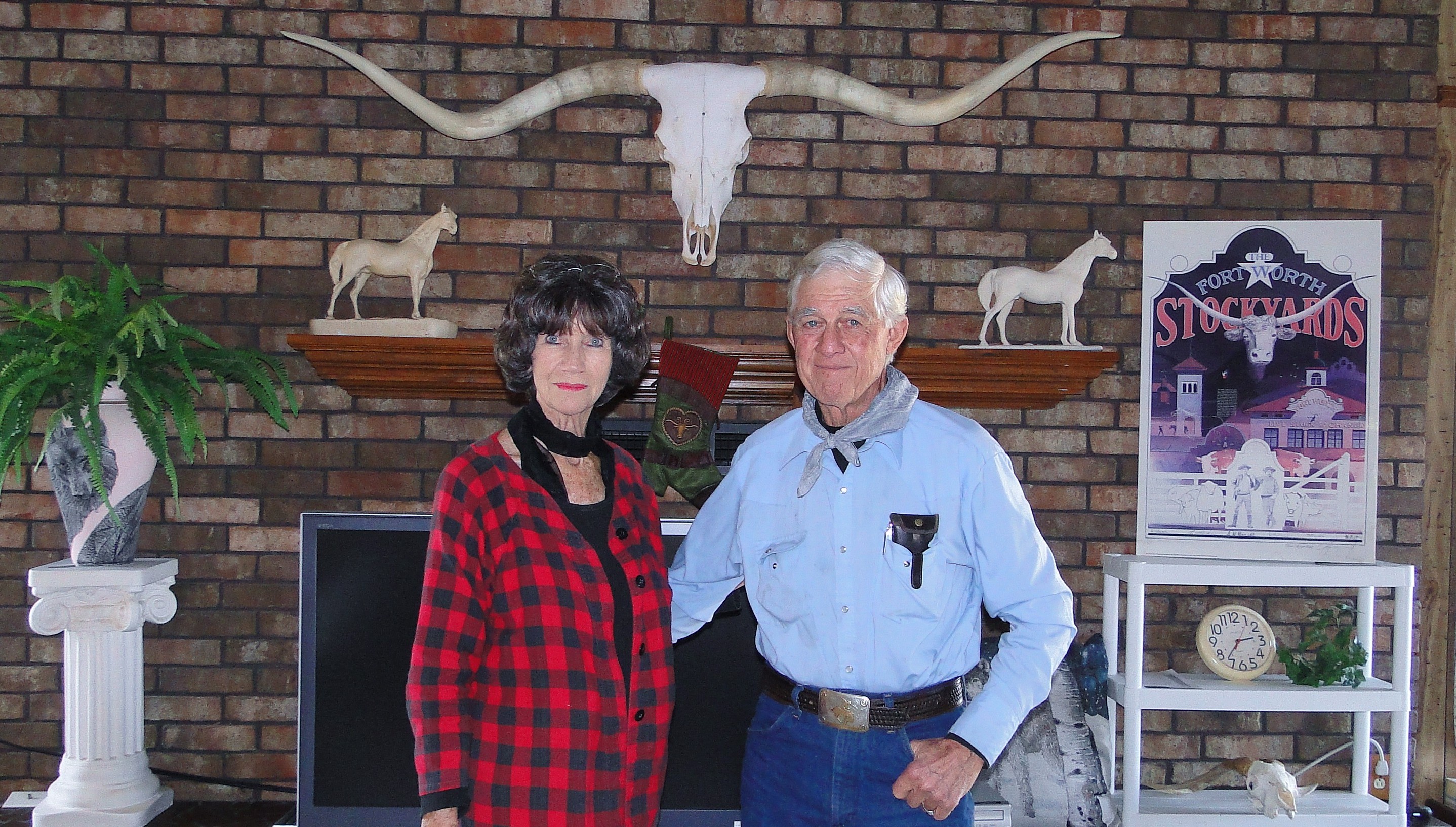 Photo taken in our Family Room by Terry Ropp, Reporter for Ozark Farm & Neighbor
when she came to do an Interview & Article for their publication about us & our Texas Longhorn Herd in the Feb. 2012 issue.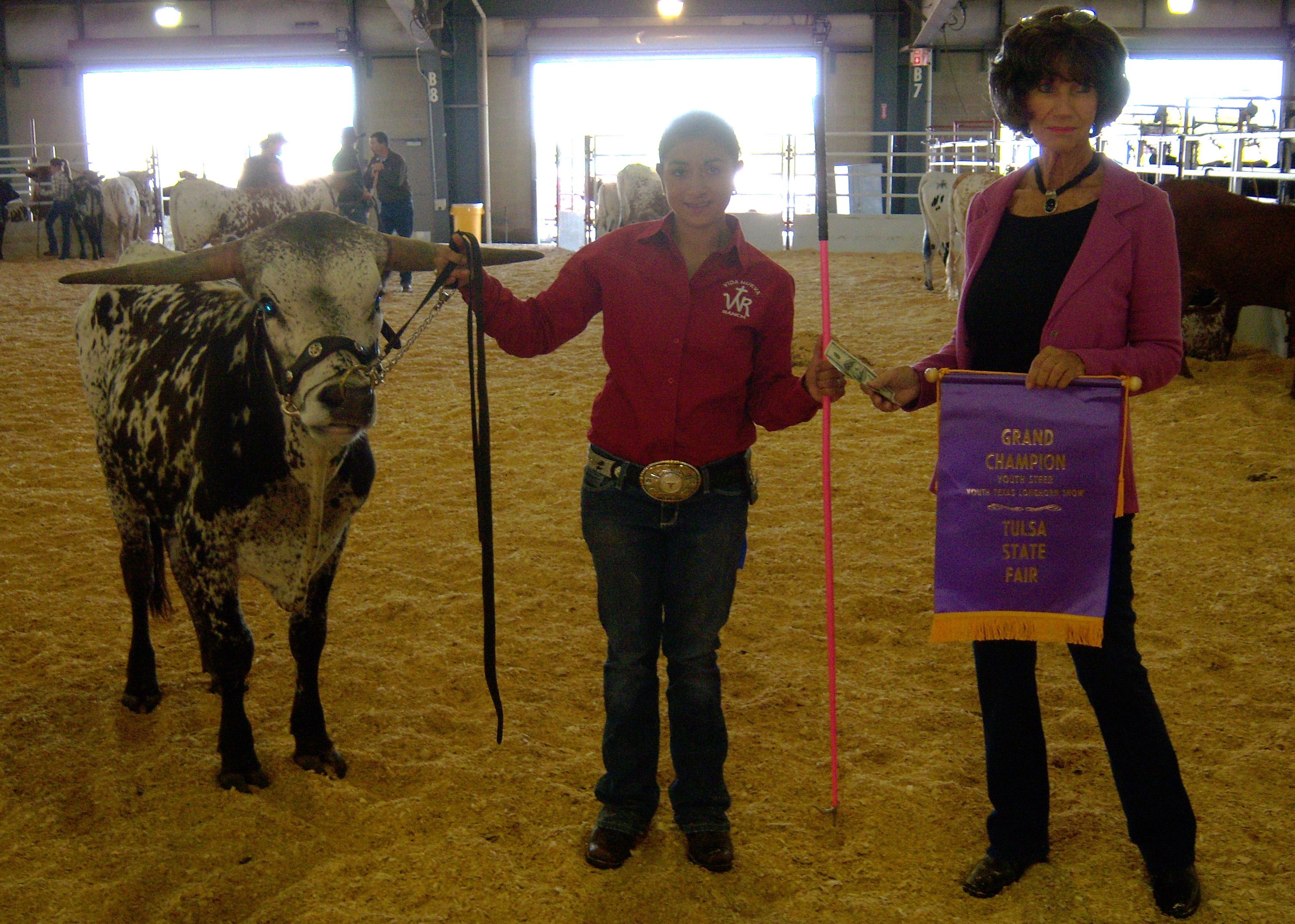 LINDA AT 2010 TULSA FAIR WITH GRAND CHAMPION HALTERED BULL SPONSORED BY LONE WOLF RANCH.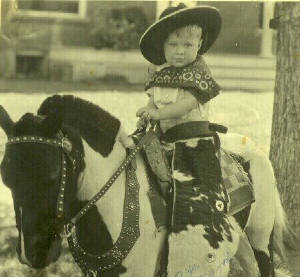 Lee, ABOVE 78 yrs ago, in Nebraska in 1934 at age 2 . and
BELOW 10 years ago at age 70 at our Lone Wolf Ranch on HWY 16 West of Muskogee, Oklahoma.
BORN MARCH 14,1932, THIS YEAR, HE WILL BE 82 AND HE IS STILL A COWBOY.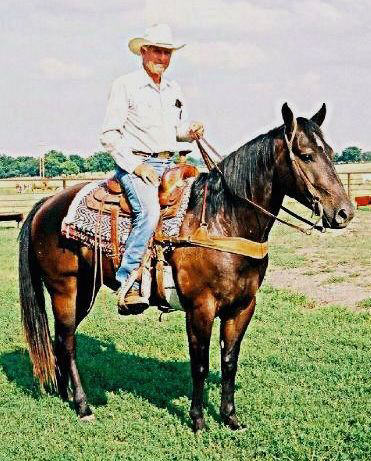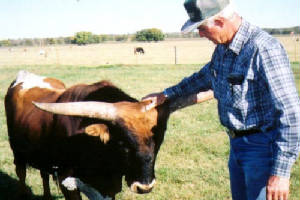 Another gentle young bull here at the Lone Wolf Ranch wanting his head scratched.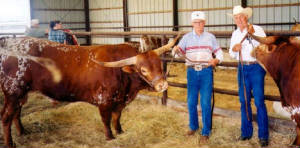 2 of our Haltered Show bulls, 'Lone Wolf '& 'Lone Wolf 2' wining at the Wilburton, OK Competition.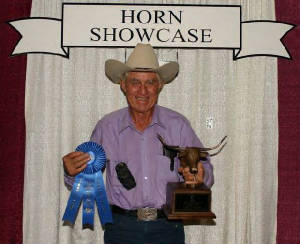 LEE ABOVE AT HORN SHOWCASE IN FORT WORTH WITH BRONZE TROPHY & BLUE RIBBON WON BY LEE'S FAVORITE COW DELTA FIFI.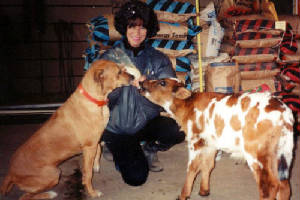 "Lady" helps make sure Linda is doing her chores & feeding
this baby orphan calf, this was our cow, Magies 19th calf. She was 22 yrs old and broke her hip, falling on the ice in an ice storm.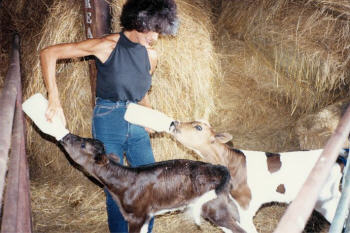 Linda feeding Longhorn - Holstein cross calves.
************************************
BELOW : These 2 little TOP CALIBER X DELTA FIFI Embryo Transfer Heifers were born in FEB 2011 during our Oklahoma Ice Storm & Snow Blizzard & raised in the house 5 days. One in the bath tub & One in the shower.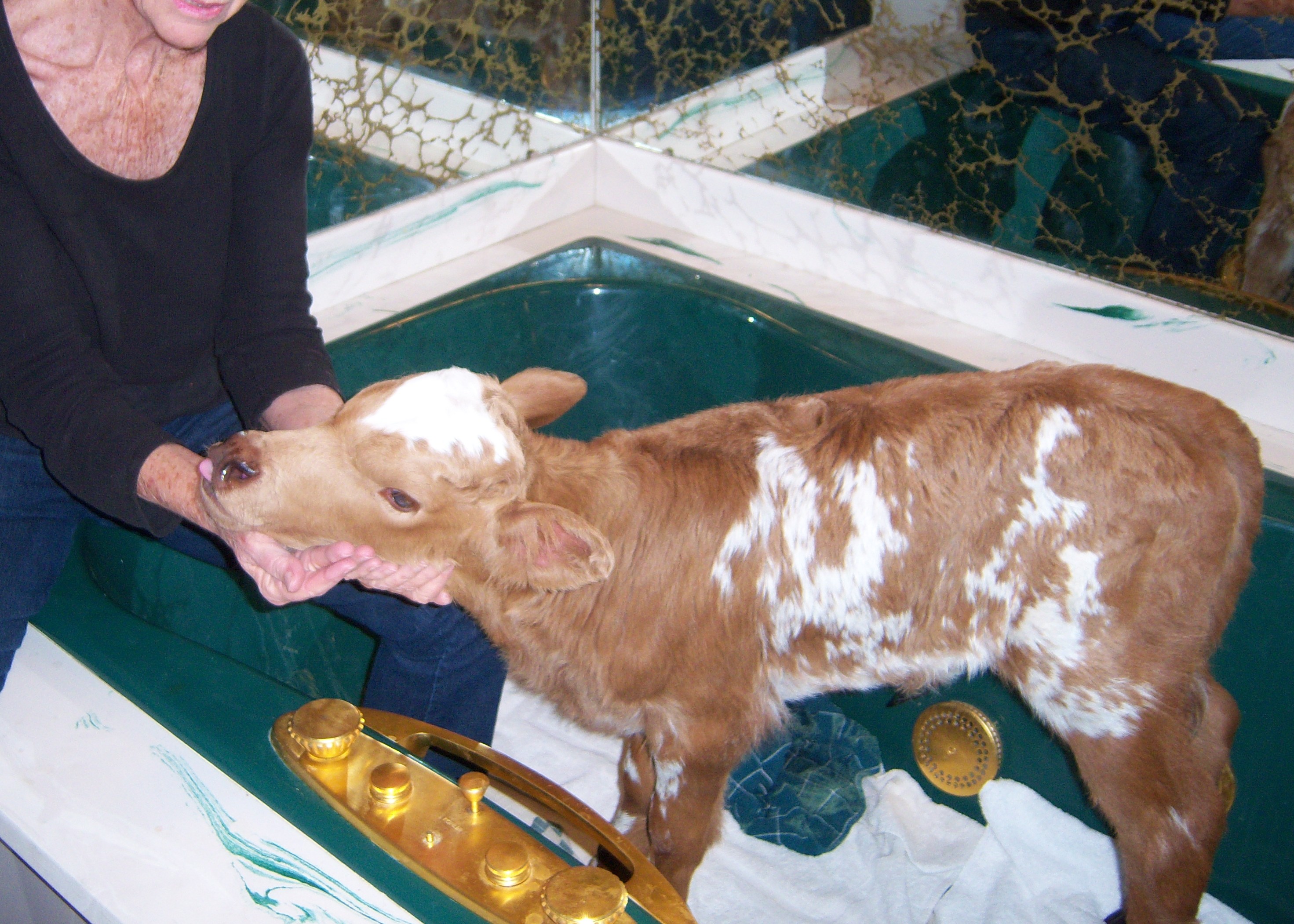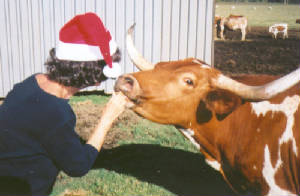 Its Christmas time! Cubes are their favorite presents.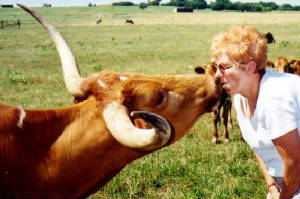 Sister-in-law Pat, feeding cubes, "mouth to mouth"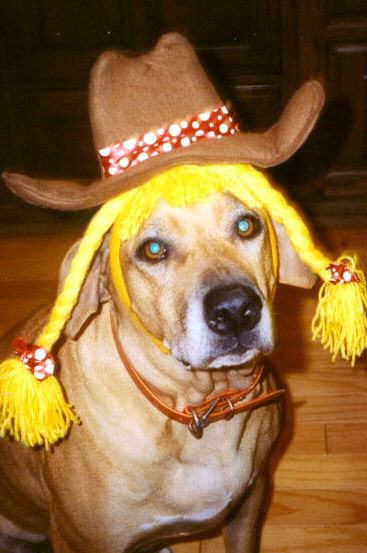 "Lady" competing for title of Head Cowgirl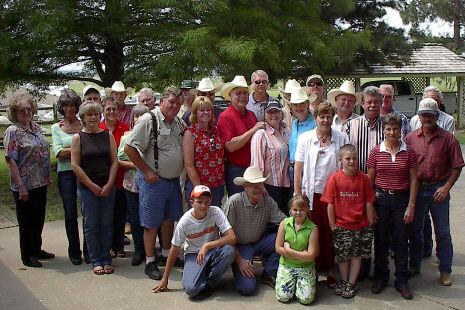 Indian Territory Texas Longhorn Meeting and Ranch Tour - June 26, 2004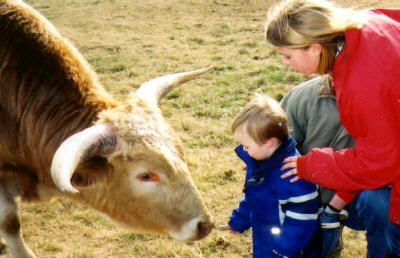 Granddaughter Amanda, shows Seth how to feed our young bull, "Southern Comfort".

Phenomenal Printzess gives daughter-in-law Patty Larrabee a kiss.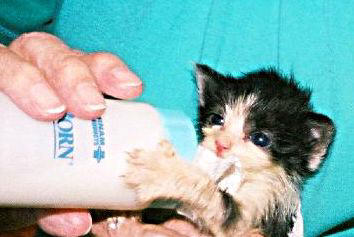 Two of the 5 orphan kittens Linda had to bottle feed after a Coyote killed their Mama Cat.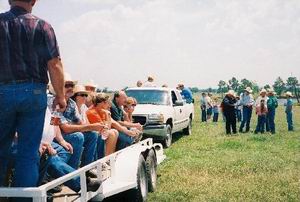 July OTLA Ranch Tour at our Lone Wolf Ranch West of Muskogee, before we moved to Sallisaw.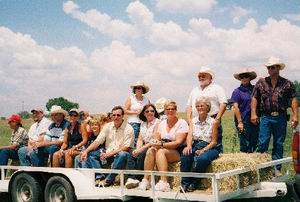 July OTLA 2005 Ranch Tour at Lone Wolf Ranch

Hopi and her heifer calf meet Hopi's new boyfriend at their new home in Texas with Bonnie.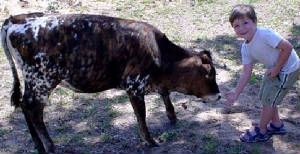 Hopi's Heifer being fed at his new home with Jacob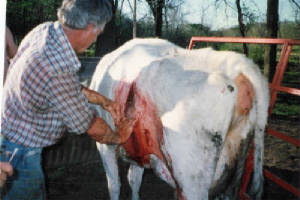 LEE ABOVE DOING A C-SECTION ON A HOLSTEIN COW IN MISSOURI WITH COW TIED TO THE FENCE POST & STANDING UP & LEE BELOW DOING A C-SECTION IN THE BACK OF AN OLD TRUCK THAT WAS TO LOW TO EVEN STAND UP IN. AS USUAL BOTH C-SECTIONS WERE A SUCCESS !!!!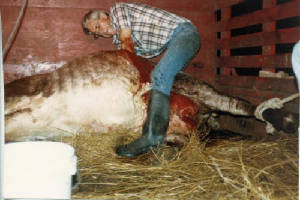 "Yes Lee, I did say I wanted a 4 wheeler with a steering wheel for my Birthday,
so I could get across the drainage ditches here on the ranch easier,
but I was kinda thinking of something a Little Smaller."