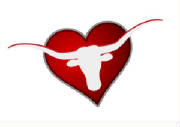 'Linda's Beloved Grand Dams'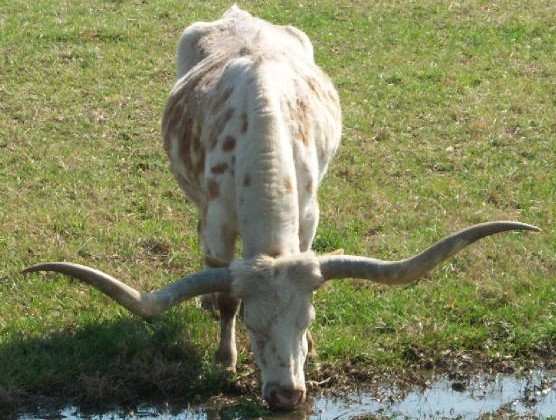 CHERRY & W5 WICHITA CLASS * PHOTO 3-19-2010
"BEST FRIENDS"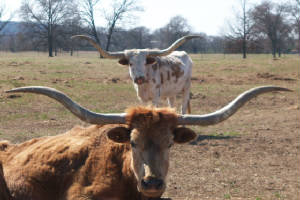 W5 WICHITA CLASS BORN 6/28/1989
A BEBOPPER X CLASSIC CHANCE DAUGHTER
Horns Measure 75" Tip To Tip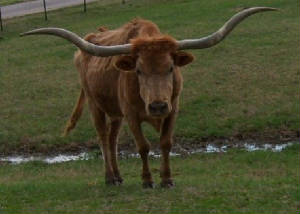 CHERRY A DIXIE HUNTER X LUKING DAUGHTER BORN 5/12/1988 & HORNS MEASURE 73" TIP TO TIP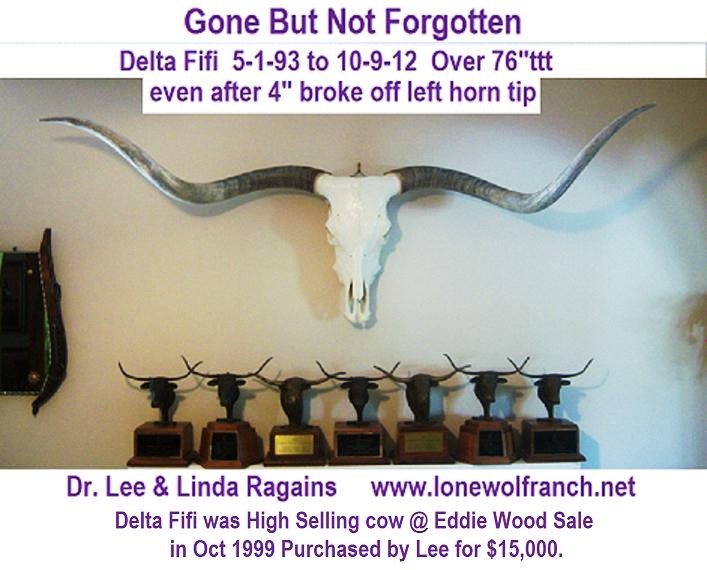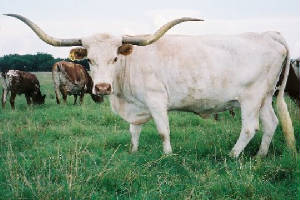 JINGLEBELL 11 DOB 12/25/89 70+" TTT
BEBOPPER X SPECKLE ROSE 115
1/2 SISTER TO WICHITA CLASS SHOWN ABOVE CO-OWNED WITH WES WATSON

*** COWS BELOW 'DECEASED' BUT SHOWN FOR REFERENCE***
Delta Ellie Born: 3-24-1989. Dixie Ruler x Delta Pearl
Horns: 70" on 9-26-03 (photo date: 10-7-03)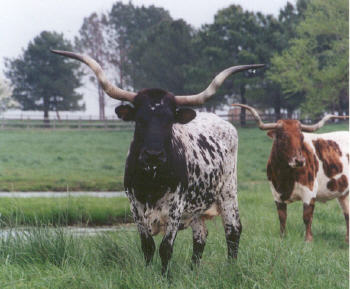 Magie. Born in 1979, very first TLBAA registered calf we had born at the Lone Wolf Ranch and she died at the age of 22 years old. She had 19 calves for us. She is shown with Granddaughter Powder Puff we still have 3 of Powder Puffs daughters.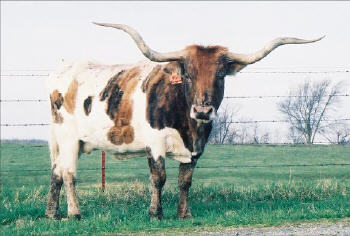 Powder Puff. Born: 5-15-1984.
Powder Smoke x Lone Dove. Horns: 65" on 2-11-05.
photo: 3-14-05 WE STILL HAVE LOTS OF HER OFFSPRING.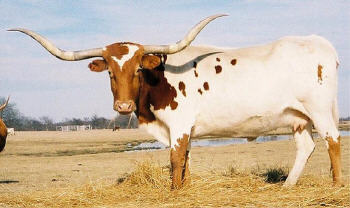 Horse Head Pebbles. Born: 2-1-1988. Rusty Dode FM 612 x Horse Head Just Dandy.Horns: 67+ TTT (photo date: 2-23-04)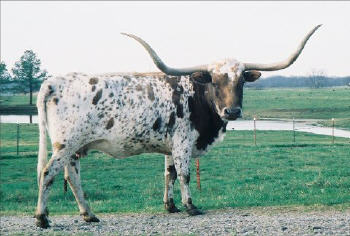 To To. Born: 3-17-1989.
Measles Super Ranger x Knick Knack Pattywhack
Horns: 65" on 1-20-05 (photo date: 3-12-05) heifer calf at side now sired byMatamoros.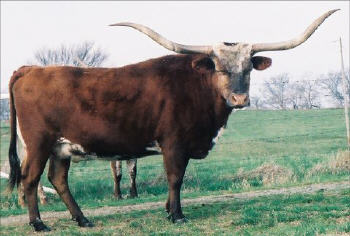 Slater 94. Born: 2-1-1989
Mr Red Mac 732 x Farris 42
Horns: 64 1/8" on 1-20-05
(photo date: 3-14-05)

Slater 922. "Swoop Horns".
Mr Redmac x R.L. Slater 774.
Born: 10-10-1989 Horns: 56 3/4" on 7-10-05. (photo date: 3-16-05)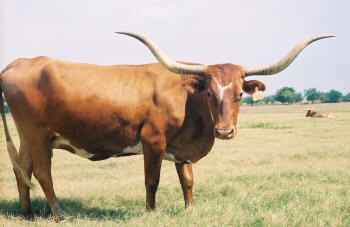 Ace's Blaze Star. Born: 3-15-1989
Dixie Hunter x War Bells 4/1
Horns: 60 1/2" on 9-26-03